Figs are delicious and full of nutrients. From their color, you can guess that they are replete with "cyans" (our generic term for anthocyanidins, anthocyanins and other similarly named purple-blue substances). But from their taste, it's obvious that they are loaded with sugar. So you feel guilty eating them… And you feel guilty wasting them. Of course you could give them to your friends, but there is the ethical issue: is it right to feed others what you won't eat?
We have been told time and again that fruit is good for us. And indeed, given the choice between a doughnut and fruit, one should definitely go for the fruit. However, in the context of a nutrient-rich, real food diet, fruit is not as important, since it contains no nutrient that you couldn't get elsewhere, while packing a fairly large quantity of sugar.
IT'S WORTH REPEATING: Fruits are delicious! But there is nothing unique in them: you can find all the same nutrients, with less sugar, in the colorful nutrient-dense vegetables. Contrary to the widespread belief that fruits are essential to our diet, we don't need fruit, provided we follow a colorful, nutrient-rich diet.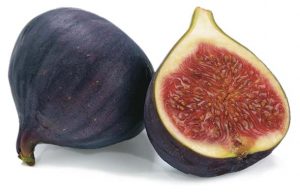 Here is a good way to extricate yourself out of this distressing dilemma: preserves allow you to spread the consumption of the sugary treat throughout the year, and share it with your friends too. In limited amounts, fruit relishes are an amazing way to bring nutrition and variety to the table. The spices are also an important contributor to our health and, without being magical, possess unique medicinal effects.
Fig Chutney
(Adapted from Emeril Lagasse's recipe – Makes 8 1-pint jars)
2 1/2 pounds firm, slightly underripe fresh figs
4 cups vinegar of your choice (not balsamic, though)
16 oz brown sugar (yes, that's a lot…)
2 medium onions, chopped
⅔ cup chopped fresh ginger
2 organic lemon zests, chopped
3 ½ teaspoons salt
3 teaspoons yellow mustard seeds
1 teaspoon ground cinnamon
½ teaspoon ground allspice
½ teaspoon ground cloves