Welcome to the Eat Real Food or Else booksellers' page.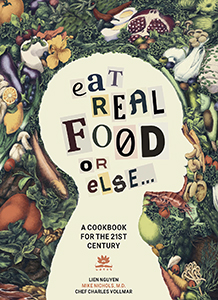 Eat Real Food or Else – A Cookbook for the 21st Century
By: Lien Nguyen, Mike Nichols MD and Chef Charles Vollmar
Hardcover with dust jacket, 304 pages, 8 x 11 inches
Golden Lotus Publishing, Palo Alto, California
ISBN-13: 978-0986252013
The book carries a list price of $40, with a first printing of 5,500. It is in stock at Ingram and Baker & Taylor, trade discounted, and returnable.
---
A cookbook, coffee table book and nutrition manual, all in one!
Eat Real Food or Else is a collaboration between a physician, a chef, and an award-winning cookbook writer. While presented in the form of a full-color illustrated cookbook, it is a nutrition manual as well. Each recipe is accompanied by nutritional sidebars that make the message interesting and lively. The book also contains a whole scientific section and an appendix with technical references for those who want to go further.
♦ ♦ ♦
The book is fully described in our media kit documents, available below.
For more information or to request a sample book, please email lien@erfoe.com.
Click here to look inside the book.
Download the whole media kit: ERFOE-Bookseller-media-kit
Or view items separately: